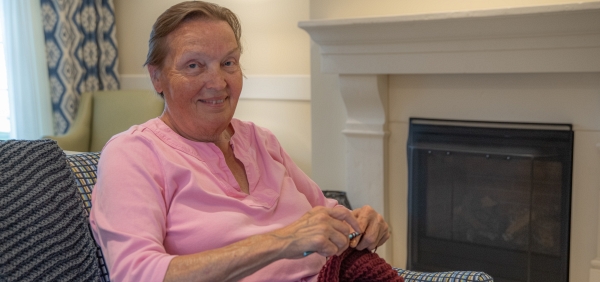 Understanding Dementia and Memory Care
While forgetfulness is a normal part of aging, significant mental decline is not. In fact, many people never experience dementia, even in their 90s and beyond. So how do you know when memory loss is nothing to be worried about and when it's an early sign of dementia? And if it is dementia, what can you do to manage symptoms and protect your or your loved one's quality of life? What is Memory Care  all about? At Artis Senior Living communities, our specialized Memory Care associates  partner with families to find answers to questions like these every day.
It's important to learn more about dementia, for several reasons. Not only can it help you make informed decisions for a loved one with dementia, but knowing the symptoms of dementia can lead to early diagnosis — which is key to securing the right care and support for the future.
What Is Dementia?
A broad term that encompasses many different medical conditions, dementia refers to cognitive decline that's serious, meaning it impacts your daily life and functioning abilities. Some of the most commonly known forms of dementia include: 
Alzheimer's disease (the most common form of dementia)
Lewy body dementia (named after the proteins that form in nerve cells of the brain)
Huntington's disease (a rare, genetic type of dementia)
Frontotemporal dementia (refers to a group of brain disorders that cause portions of the brain lobes to atrophy)
Since dementia is caused when brain cells are damaged, the specific condition depends on the type of cell damage and the area of the brain affected. Most of the cell damage that causes dementia is progressive and permanent, but as we'll explain, many times symptoms of dementia can actually be signs of another, unrelated condition.
Early Signs and Symptoms of Dementia
The first step to recognizing the early signs of dementia is knowing an individual well enough to consider their current level of daily functioning and how it's changing over time. Almost everyone experiences some memory loss as they age, but the loss is greater for a person with dementia. Symptoms of memory impairment that could signal a more serious condition like dementia (especially if multiple symptoms are noticed) include:
Becoming confused with memory loss
Having increased difficulty with speaking, reading, and writing
Experiencing problems with movement and/or balance
Getting lost in familiar places or wandering off
Repeating stories or questions
You may be wondering, is it possible to prevent the onset of dementia? That depends on the individual. While age and genetics are risk factors, research shows that making healthy lifestyle choices with diet, exercise, and cognitive stimulation (or training for your brain) can help reduce your risk.
How to Diagnose Dementia
It may surprise you to learn that while the number of people with dementia is on the rise — currently, there are more than 10 million new cases each year across the world — around half of these individuals remain undiagnosed in the U.S., with even greater numbers in other countries.
This may help explain why: Dementia can't be diagnosed through a single test. It  requires a complete medical history, physical examination, careful review of changes in daily functioning and behavior, and even laboratory tests. Since many conditions  of dementia are progressive (symptoms gradually get worse), with overlapping signs and symptoms, diagnosis is often difficult.
Also, there are many unrelated conditions that can cause symptoms of dementia. These can sometimes be reversible, as in the case of thyroid problems, vitamin deficiencies, or medication side effects, so it's important to talk to a doctor as soon as possible if you notice memory impairment that is becoming more frequent, or impacting daily life functioning. While specialists such as neurologists and geriatricians are trained to diagnose and treat people living with dementia, you can also ask your primary care doctor for advice, if you're concerned about memory loss.
Dementia Care and How to Be Supportive
As the name implies, Memory Care communities are designed specifically to assist those with forms of dementia such as Alzheimer's disease. At Artis Senior Living, we believe in caring for people and remaining positive, to find and embrace opportunities that still exist for each resident of our communities, regardless of the diagnosis. Memory Care activities include the things each individual enjoys doing most — it's about being who you are but having the security of customized support.
While every Memory Care community is different, an Artis Senior Living community is focused on celebrating every person's story and caring for them with dignity and respect.
If someone you love has been diagnosed with dementia, it can be overwhelming to think about what's next. For helpful information on how to prepare for the road ahead, request our free downloadable resources now, including "Preparing for the Progression of Dementia." At each of our Artis Senior Living communities, we work to engage residents, their loved ones, and their care partners to foster the dignity and grace that is a right for all. We invite you to experience for yourself this open-ended approach to care, known as The Artis Way, with compassionate guidance for you and your family. Contact us for more information, or to join our upcoming event, "What's Dementia and What's Not," on Tuesday, June 7.