What Are Financial Solutions for Senior Living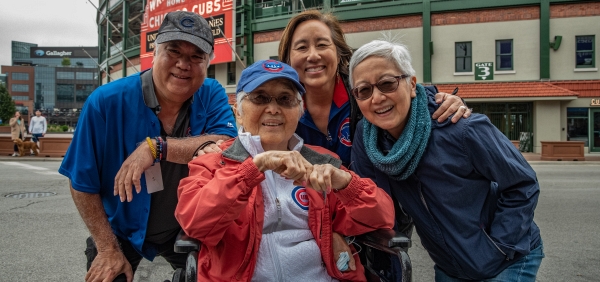 Financial Solutions to Cover Senior Living Costs 
Sometimes, the realization your loved one needs to move to a senior living community can happen suddenly. Like when you notice they need more help with the activities of daily living — bathing, eating, getting dressed — and moving to an Assisted Living community would help them maintain their independence. Or if their Alzheimer's disease or other type of dementia has progressed to the point where they'd be happier (and safer) in a Memory Care community. If that happens, family members usually have two questions: Which senior living option is best for my loved one? How will we cover the costs of their Memory Care or Assisted Living? This blog post will offer some ways to cover these senior care and medical expenses.
What Are Some Financial Solutions for Senior Living?
Before choosing a community for your loved one, consider how you'll pay for Assisted Living or Memory Care. Determine the top features your family member prefers, how much care they'll need, and what funds you have available. Some financial assistance options include:
Private pay: Most families use a combination of personal savings, pension payments, and retirement accounts to help them pay for senior living.
Veterans benefits: U.S. veterans or their surviving spouse may be eligible for aid and attendance benefits. This federal benefit,  provided through the Department of Veterans Affairs, could cover up to $1,800/month to help pay for assistance with activities of daily living and/or required clinical care in a Personal home, Assisted Living or Memory Care . To qualify, your loved one must be 65 or older, have at least 90 days of consecutive, active-duty service, need assistance with activities of daily living, or have a mental or physical disability that requires extensive care or be bedridden with the exception of medical appointments or therapies.
Tax exemptions: If your loved one is unable to perform at least two activities of daily living without help from a caregiver, they may qualify for a tax exemption to help pay for assistance at a Memory Care or Assisted Living community. Check with your tax advisor for more details before making a decision.
Social Security: If your loved one is collecting Social Security  benefits, that income can be put toward the cost of a senior living community.
Long-term care insurance: This is a type of insurance policy that reimburses the policy holder with a daily amount to help cover assistance with activities of daily living. Policies should be purchased in advance of your family member needing care. The benefits your loved one receives will be determined by the policy and a health assessment completed by a nurse or social worker. Sometimes, families don't realize their loved one already has long-term care insurance, so be sure to ask them.
Life insurance: If your loved one has a life insurance policy with cash value, they can make withdrawals to help pay for long-term care. The policy could also be sold to pay for care in what is called a "life settlement option." This can produce up to three times the amount of money as accessing cash through withdrawals. This financial option is especially helpful for a person with dementia, because their life insurance policy could be exchanged for Alzheimer's care.
Reverse mortgage: Also known as a home equity conversion mortgage, a reverse mortgage is similar to a home equity loan in that a homeowner can convert all or some of their home's equity into cash. However, it's only available to people over the age of 62 and doesn't require monthly payments. In fact, the loan isn't repaid until the home is sold. In this type of loan, the lender would pay the borrower a monthly amount. Income from a reverse mortgage is tax-free and doesn't affect Social Security or Medicare benefits. Taking out a reverse mortgage is a big decision, so it's important to talk to a financial advisor or an elder law attorney for help weighing all the pros and cons.
Bridge loans: This short-term loan option can pay for Memory Care costs immediately while you're liquidating assets or waiting for a home to sell. The advantage is that you receive funds quickly. The downside is bridge loans typically have higher interest rates.
Medicare: For people over the age of 65, Medicare will pay a percentage of costs for a shorter stay in a skilled nursing facility and hospice care if certain conditions are met. However, it doesn't typically cover long-term care costs.
Making Sense of Your Financial Options
At Artis Senior Living, we help families like yours figure out financial options for senior living every day. We can help with everything from bridge financing and veterans benefits to home sale solutions and insurance. Join us Tuesday, April 12, as we present "All Your Answers to Financing Solutions for Senior Living." Or be on the lookout for another upcoming discussion.
Our approach to Memory Care includes The Artis Way — a refreshingly different approach to care provided within a secure, intuitively designed community. For more information or to find an Artis community in your area, contact us here.