Find Ways to Make Mother's Day Special – Artis Senior Living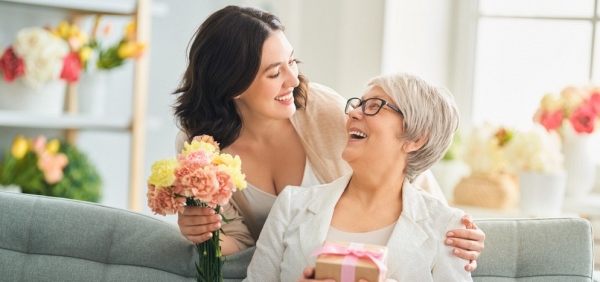 How to Make Mother's Day Special This Year
The second Sunday in May is designated as the day to honor mothers everywhere. If your mom has recently moved to an assisted living community or memory care community, you may feel a little lost in trying to figure out how to celebrate Mother's Day. The reality is that even though she may have moved into a senior living community to get the help and support she needs, the shared bond between you continues and can even grow deeper. This blog post will show you how to make the day special with Mother's Day gift ideas.
10 assisted living gift ideas for Mother's Day
Enjoy some favorites: If your mom has trouble getting out and about, consider picking up a meal or dessert from her favorite restaurant and sharing it together.
Share a new experience: Memories and connections are best made over a shared experience. See if her assisted living community has an activity coming up — like a yoga class, cooking class, or community outing — that you could attend with her.
Build a bouquet: Bring supplies — flowers, scissors and vases — to make a few flower arrangements together. You can place them throughout your mom's home or even take one to a neighbor.
Add the generations: Part of being a mom is seeing your impact on the future. If it's appropriate, bring the grandkids to her celebration. You could all go to a neighborhood park or bake cookies together.
Smell the flowers: If there's a botanical garden nearby, see if they have any upcoming gardening or flower arranging workshops.
Enjoy a day out: You can window shop at local stores, try on clothing, or visit antique shops. Whatever you decide to do, it's sure to be a good bonding experience. Especially if you include going to lunch.
Pamper her with a spa day: You could either get manicures and massages at a local spa or have a nail painting party at her place.
Picture this: Digital picture frames are a great way to share memories. Just upload images of the family for your mom to enjoy, including weddings, vacations, grandkids or even photos from her past.
Care for her: Consider putting together a basket of her favorite lip balms, lotions, candies, drinks, puzzles, books and an oversized blanket to encourage her to take a moment or two just for her.
Give comfort: Help melt away stress, aches and pains with a warming or massage pillow. It can be used behind the neck or lower back, beside a hip or between the knees to add some relaxing comfort to your mom's day.
10 memory care gift ideas for Mother's Day
Get together: Do an activity — like watercolor, take a walk, watch a movie, or look at photos — with your mom. Spending time together can help engage your mom while also creating new memories with her.
Walk down memory lane: If your mom still has some of her long-term memory, consider talking about the past or other shared moments.
Bring a favorite: Prepare one of your mom's favorite dishes or an old family recipe. People with dementia can often lose their appetites or even forget to eat. Bringing something she loves will encourage her to eat.
Be hands-on: Giving your mom a hand massage or manicure is a great way to connect while also caring for her.
Tune in: Music can sometimes help transport someone with dementia to a different time or place. Play some of your mom's favorite music, dance with her and sing along.
Make it easy to keep in touch: Ever-changing phone technology can be challenging for all of us. Program your mom's main contacts into a memory picture phone. It replaces the number pad with a highly visible photo so she can easily call loved ones.
Create a colorful life: Just 20 minutes of coloring a day can increase mindfulness, reduce stress and improve mood. Specially designed dementia coloring books have stimulating designs and larger print that make them easier to use.
Give the beauty of routine: People with dementia often find comfort in a regular schedule like the familiarity of makeup or skincare routine. You can find a gift set that includes nail polish, lipstick, and face masks that she'll find relaxing while making her feel beautiful.
Play with puzzles: Working on a puzzle helps with motor skills, reinforces brain cell connections and improves short-term memory. Puzzles made specifically for people with dementia have larger pieces and contain recognizable items such as flowers and vegetables.
Try this "scentillating" gift idea: There's no traditional Mother's Day gift like flowers. Because smell is a powerful way to evoke memories, choose a bouquet filled with flowers that have a strong scent like roses, freesia or peonies.
Celebrate Her Life Every Day at Artis Senior Living
At Artis Senior Living, our philosophy on senior living includes The Artis Way — a refreshingly different approach to personal care designed around your loved one's wants and needs. For more information or to find an Artis community in your area, contact us here.