A Need for Engagement, A Need for Peace of Mind, Now Is the Time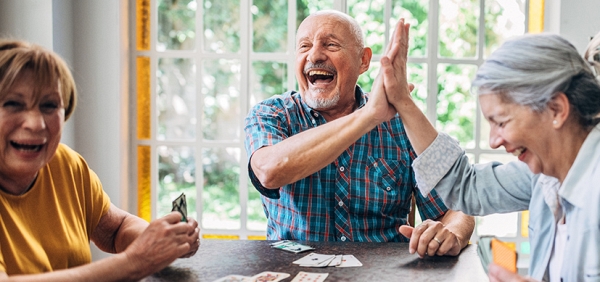 With much recent focus on the impact that COVID-19 has had on seniors and their caregivers at home, it's important to think about how this is affecting your loved one as well as yourself. As the coronavirus has changed many parts of our day-to-day lives, everyone has been forced to adjust, and those adjustments have not been easy. Caregiving for a loved one is already a full-time job before adding on the expectation that you have to understand and prepare for an infectious disease.
Through our support programs, we've found that many people are finding that this level of care has proven to be more than they are able to provide, but many are also hesitant to move a loved one to a memory care community over concerns for safety during COVID-19. While moving into memory care during a global pandemic could be perceived as a challenging decision, we believe now could be the smartest time to make that move.
As you consider whether now is the right time for you and your loved one, think about what the upcoming months may bring, and all that memory care can offer you and your loved one.
Safety – This is the first thing we are all thinking about when considering a move for a loved one. At Artis, we have spent countless hours developing strict safety protocols with staff members that are trained to follow best practices to prevent community spread of COVID-19. They are being screened before each shift for symptoms of the virus and are obligated to not come to work when they're sick. In addition, through our renowned partnership with physicians from Johns Hopkins, we have access to hospital-level infection control experts who are part of our Artis Safety Council. They continually review and optimize these practices, giving us insight to the most up-to-date COVID-19 research and information.
Safe Socialization and Engagement – Many seniors living at home have become more isolated as a result of precautions to prevent the spread of COVID-19. Day programs have been closed, activities are no longer available and the idea of taking your loved one into public causes considerable anxiety. This is leaving those with dementia feeling isolated in their own homes, and caregiver frustrations are at an all-time high. At Artis, we've spent a great deal of time planning and implementing safe opportunities for engagement, continued learning, entertainment and the ability for our residents to move about with confidence. We know that those who have cognitive impairments must be engaged, so we spend every day making sure we can offer our residents opportunities to thrive.
Wellness and Health Care Services On Site – We know your loved one needs ongoing care, but taking them to appointments right now can be tricky. Artis offers access to on-site medical care for primary care, medication management, prescription refills and specialty services like physical therapy. We have outdoor spaces that allow residents to enjoy the sunshine and fresh air without risking exposure. Providing these services within our communities provides an extra layer of protection during the pandemic.
Quality of Life and Peace of Mind – If you are caring for a loved one with dementia, the relationship you once shared is likely strained. You've gone from being their spouse, child or sibling, to being their nurse, chef, entertainer, housekeeper and so much more. These uncertain times have stretched caregivers to their mental limits, leaving them feeling exhausted and unsupported. Families who have made the transition to Artis amid the pandemic, say they wish they had made the decision sooner when they see their loved ones thriving in our community. Even via video calls, window visits and socially distanced outdoor porch visits, the opportunity to just be the husband, or daughter, or sibling again is an amazing feeling. Find the quality of life you both deserve.
Hear what some of our residents' family members had to say:
"Thanks for keeping our loved ones safe during this pandemic. Special thanks for helping me stay in touch with my grandma through FaceTime! It's been so special to be able to connect with her in the only way possible right now. Our elders are so vulnerable and isolated and it's really nice to know you are doing what you can to keep them safe, healthy and loved."
"The staff is very caring. They have done a truly great job during the COVID-19 epidemic. They think of innovative ways for you to keep in touch with your loved ones during this difficult time."
"Artis is a hidden gem for memory care assisted living! It is heartwarming to see the level of genuine interaction they provide to the residents and families. Exceeding expectations is the norm for this team, and there is a deep pride in the service they provide. I've been involved in community education events they host, and you really see the engagement of both the professionals, the residents and the families."